100% AIFA
AIFA is proud that 100% of donations to AIFA go directly to research. This is because AIFA's modest running costs are supported by ASCIA. To celebrate what makes AIFA unique we have launched the 100% AIFA campaign with new website banners donated by Sydney photographer Piers Haskard.
AIFA (Allergy and Immunology Foundation of Australasia) was established in 2013 as an initiative of ASCIA (Australasian Society of Clinical Immunology and Allergy), the not for profit peak professional body for clinical immunology and allergy in Australasia. AIFA is a charity that aims to improve the health of people with allergy and other immune diseasesby funding medical research and raising public awareness. The first AIFA grants were awarded in 2015. www.allergyimmunology.org.au/projects
It is AIFA's goal to give a cumulative total of $400,000 in research grants by 2020, and $500,000 by 2021. You can help us achieve this by making a tax deductible donation at www.allergyimmunology.org.au/donate
The images for our new website banners are the work of Piers Haskard. Based in Manly, Piers travels locally on the Northern Beaches and along the Australian coast to document new experiences above and below the surface of the sea. See more of his work at www.piershaskard.com or on Instagram @piershaskardphoto
AIFA research grant applications are due by 15 April 2019
Apply at www.allergyimmunology.org.au/grants
AIFA grants to be awarded in September 2019:
$40,000 - Food allergy research grant
$30,000 - ASCIA 30th anniversary research grant
$25,000 - Primary immunodeficiencies clinical research grant supported by CSL Behring
$15,000 - Hereditary angioedema clinical research grant supported by CSL Behring
$10,000 - Food allergy research grant supported by DBV Technologies
National Immunodeficiency Strategy
On 8th March 2019 ASCIA hosted a meeting in Melbourne to develop a National Immunodeficiency Strategy. The mission is to improve the health and wellbeing of people with primary immunodeficiencies (PIDs) and minimise the impact on individuals, carers, health services and the community.
Delegates included clinical immunology specialists, nurses and dietitians (ASCIA members), patient organisations (AusPIPS, IDFA, IDFNZ, HAE Australasia), major research centres (Jeffrey Modell Foundation, ANU, WEHI, Garvan), funding bodies (National Blood Authority and Jurisdictional Blood Committee), supply channels (Australian Red Cross Blood Service) and other potential collaborators such as NBS MedicineWise. The meeting was supported by unrestricted educational grants from CSL Behring and Grifols. The program and outcomes are not influenced by this support.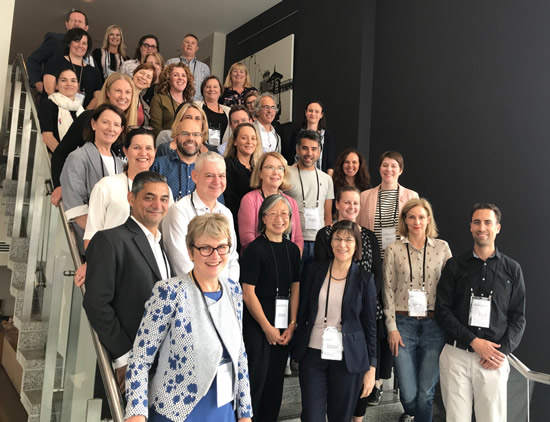 Supporting lupus research
We are grateful for the courage of community fundraiser, Josephine Riek, who is raising money for AIFA research. Josephine is 22 years old and has systematic lupus erythematosus (SLE), also known as lupus. On 10th May, World Lupus Day, she is shaving her head to raise awareness of this debilitating disease. You can read Josephine's story on the AIFA website www.allergyimmunology.org.au/personal-stories and donate to her community fundraiser at the GoFundMe page.
Thank you Josephine!
For more information on SLE visit the ASCIA website
www.allergy.org.au/patients/autoimmunity/autoimmune-diseases