Allergic asthma project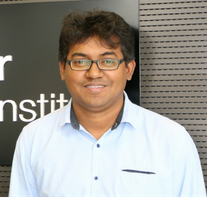 Asthma is a chronic lung disease affecting millions of Australians. There is no cure for asthma and current treatment options for asthma are merely supportive. Asthma affects people of all ages, but most often starts during childhood. Sensitisation to allergens is one of the major risk factors for asthma onset. The AIFA Board is pleased to announce that a project entitled "P2RY13 – a novel therapeutic target for allergic asthma" led by Dr Md Ashik Ullah of QIMR Berghofer has been chosen as the recipient of a $30,000 AIFA research grant.
Dr Ullah, a respiratory immunologist, is investigating the consequences of allergen exposure in the lungs and the processes that predispose people to allergic sensitisation.
The airway lumen of the lungs is lined by airway epithelial cells which, in response to allergen exposure, release innate inflammatory mediators or 'alarmins'. Dr Ullah has shown that these alarmins promote the allergic inflammation that contributes to airway wall remodelling and bronchoconstriction, making it difficult to breathe. A potential treatment approach therefore would be to halt the release of alarmins. Dr Ullah has novel data to suggest that the purinergic receptor P2RY13 regulates alarmin release from airway epithelial cells.
Dr Ullah will investigate whether the antagonism of P2RY13 reduces the release of alarmins in response to different allergens. Ultimately, these findings could lead to the development of new therapeutics for the prevention and treatment of asthma.

Congratulations to Dr Ullah and his research team at QIMR Berghofer.
Content created 7 September 2018