Research Projects
New ideas for new treatments, better diagnosis and better outcomes for people with allergy and other immune disease. Ambitious? Yes.
These projects have been awarded AIFA grants after a rigorous selection process, reviewed by a panel of leading experts in allergy and immunology research.
To apply for a grant go to www.allergyimmunology.org.au/grants
Help us to continue this important work by donating here.
---
AIFA Research Grants | ASCIA Research Grants 2004-2009 | Allergy and Immunology Research
---
AIFA Research Grant 2018
Allergic Asthma

Dr Ullah, a respiratory immunologist, is investigating the consequences of allergen exposure in the lungs and the processes that predispose to allergic sensitisation.
The airway lumen of the lungs is lined by airway epithelial cells, which in response to allergen exposure, release innate inflammatory mediators or 'alarmins'. Dr Ullah has shown that these alarmins promote the allergic inflammation that contributes to airway wall remodelling and bronchoconstriction, making it difficult to breathe. A potential treatment approach therefore would be to halt the release of alarmins. Dr Ullah has novel data to suggest that the purinergic receptor P2RY13 regulates alarmin release from airway epithelial cells. Read more...
AIFA Research Grant 2017
Childhood Autoinflammatory Disease
The AIFA Board is pleased to announce that a project entitled "A new approach to overcome a childhood autoinflammatory disease" led by Dr Marcia Munoz of the Garvan Institute of Medical Research has been chosen as the recipient of a $30,000 AIFA research grant. This brings the total AIFA grant figure to $130,000 in the last 4 years.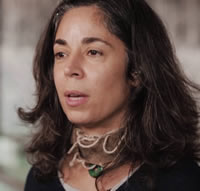 Mevalonate kinase deficiency (MKD) is a lifelong autoinflammatory disease that usually appears in infancy. It is characterised by regular episodes of fever often accompanied by rashes, headaches, joint pain, swollen lymph nodes, vomiting and diarrhea.
Dr Marcia Munoz of the Garvan Institute of Medical Research is undertaking research that could lead to a new treatment for MKD that could revolutionise the lives of children and adults with the disease. Read more...
---
AIFA Research Grants 2016
Jack Jumper Ant Allergy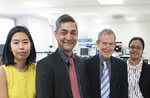 Allergies to venoms from stinging insects are one of the most common causes of severe allergic reactions in Australia, and cause more deaths than shark attacks, yet they are rarely reported. Symptoms include an all-over rash, swelling of tongue or throat, difficulty breathing, abdominal pain, diarrhoea, vomiting or a drop in blood pressure.
This research project will assess whether treatment for allergic reactions to Jack Jumper Ant stings is effective. The Chief Investigator is Dr Pravin Hissaria, with Professor Bob Heddle and Dr Adriana (Thanh-Thai) Le on the project team based at SA Pathology in Adelaide. Read more...
Developing a tool for screening for allergy that will improve drug development
Reversing the rise of allergies is an important unmet challenge of modern medicine and a problem that Dr Ben Roediger seeks to address. Dr Roediger is a research immunologist and Head of Skin Inflammation Group at the Centenary Institute in Sydney. His project has the potential to lead to better treatment for many types of allergy. He admits it is an ambitious project. The AIFA grant will give him the start he needs. Read more...
---
AIFA Research Grants 2015
Understanding Food Protein Induced Enterocolitis Syndrome (FPIES)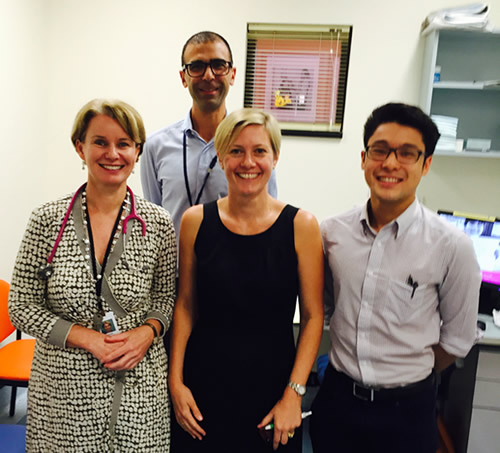 Research team led by Dr Sam Mehr (picture at rear with from left, Professor Dianne Campbell, Children's Hospital at Westmead, Dr Katie Frith, Sydney Children's Hospital, Randwick and Eric Lee, medical student), the Children's Hospital at Westmead, Sydney.
FPIES is an allergic disorder that occurs in approximately 1 in 10,000 children.The main symptom of FPIES is profuse vomiting, which can be accompanied by pallor, floppiness, hypotension and hypothermia. Most affected children have their first reaction before one year of age. The FPIES reactions may be triggered by a variety of foods, although the most common triggers in Australia are staple foods such as cow's milk, rice/oats, soy and eggs. Read more...
---
Development of the immune system and allergy in childhood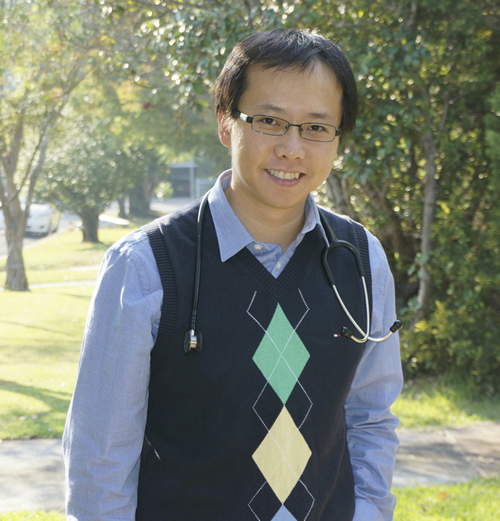 Dr. Peter Hsu, a clinical allergist and immunologist practising at the Children's Hospital at Westmead in Sydney, and his team will explore the development of the immune system in childhood. Read more...
---
AIFA Research Grants 2014
The Australian Pollen Allergen Partnership for the better management of pollen exposure and respiratory health outcomes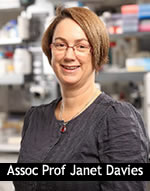 Team led by Associate Professor Janet Davies, Queensland University of Technology, Brisbane.
This project will provide Australia's first national standardised pollen monitoring program. It will ensure reliable measurements and short term forecasts of allergenic pollen counts to the public via websites, apps and media outlets.
This project that will bring real benefit to patients with allergic rhinitis (hay fever). Grass pollen is the main outdoor trigger for hay fever and allergic asthma in people with pollen allergies. Read more...
---
Predicting food allergy through the early diagnosis of molecular cross reactivity in house dust mite sensitised children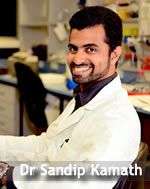 Team led by Dr Sandip Kamath, Department of Molecular and Cell Biology, James Cook University, Townsville.
Sandip's work involves predicting shellfish allergy in children who are already allergic to the house dust mite. There are similarities between the bits of the house dust mite that cause allergies and those in shellfish, which means that there is cross reactivity. This is when the immune system reacts to house dust mite and may rebel against shellfish as well. This can evolve into severe allergic reactions. Read more...
---
ASCIA Research Grants 2004-2009
2009 ASCIA Research Grants
Supported by SCHERING PLOUGH:
Dr Janet Davies and Prof John Upham, QLD: Allergy to subtropical grass pollens in Australia; IgE cross-reactivity between subtropical and temperate grass pollens
A/Prof Campbell Witt, Prof Patrick Holt and Prof Frank Christiansen, WA: Replication study of genetic predisposition of KIR2DL4 alleles to asthma
2008 ASCIA Research Grants
Supported by GSK:
Dr Tiffany Hughes, WA: Australian Pollen Immunotherapy study
Dr Euan Tovey and Dr Janet Rimmer, NSW: Purchase of a TSI 8220 Particle Counter to measure exposure to allergens during sleep
2007 ASCIA Research Grants
Dr Christine Bundell et al, WA: Evaluation of patient antibody responses to beta2microglobulin in relation to lupus anticoagulant and anti-cardiolipin results
Dr Rob Stirling et al, VIC: The impact of cofactor and effector cell function in CVID
Prof Philip Thompson et al, WA: Effects of statins on the migration and apoptosis of dendritic cells
Supported by CSL:
A/Prof Rohan Ameratunga et al, NZ: Establishment of a national food allergy database
Prof Simon Brown et al, WA: A study of the use of Intravenous promethazine for anaphylaxis
A/Prof Pete Smith, QLD: Identification of patients with 18Q21.3 deletions and anaphylaxis
2006 ASCIA Research Grants
A/Prof Rohan Ameratunga et al, NZ: Identification of novel gene defects in Common Variable Immune Deficiency (CVID): a multi-centre study
Dr Matthew Cook et al, ACT: Antibody Deficiency Allele (ADA) Pilot Study
Dr Marianne Empson, Dr Penny Fitzharris and Dr Jan Sinclair, NZ: Fatal anaphylaxis in New Zealand: case finding for the decade 1995-2004 (seed funding)
Dr Sean Riminton and Philippa Kirkpatrick, NSW: ASCIA PID Register (3rd year of 3 year seed funding)
Dr Brynn Wainstein, A/Prof John Ziegler, NSW: Evaluation of the risk of anaphylaxis in currently and previously peanut allergic children advised to avoid peanut vs those advised to regularly consume peanut
2005 ASCIA Research Grants
Prof Simon Brown, WA: Establishing a diagnostic framework for anaphylaxis to native Australian ant venoms (continuation)
Prof Connie Katelaris and Dr Janet Rimmer, NSW: Application to ASCIA to fund the purchase, establishment and validation of a novel device (Rhinolux) to non-invasively measure nasal congestion
A/Prof Jo Douglass et al, VIC: A qualitative study of the needs of individuals with primary immunodeficiency disorders in transition from paediatric to adult care
Dr Rob Loblay, NSW and Dr Mike Gold, SA: Establishment of an ASCIA Anaphylaxis Registry (seed funding)
Dr Sean Riminton and Philippa Kirkpatrick, NSW: ASCIA PID Register (2nd year of seed funding)
2004 ASCIA Research Grants
Prof Simon Brown, WA: Establishing a diagnostic framework for anaphylaxis to native Australian ant venoms
Dr Sean Riminton, NSW: ASCIA PID Register (seed funding)